The kit contains a squirrel trap long enough to capture all the squirrel without harming it but small enough to easily fit through your loft hatch, a small torch (with batteries) to inspect the squirrel trap and find your way around your loft in the dark, a pair of gauntlet gloves to handle the trap while you get it down from the loft, our own special squirrel attractant bait and instructions. remember we give you email help for as long as you own the trap, just quote your invoice number when requesting help.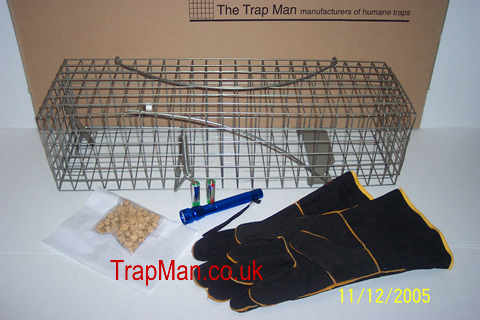 First find where the squirrel is entering your loft space, it's normally through a hole in the soffit board or a gap between the slates and the barge board just behind the gutter. Don't fill or block off the hole untill you're certain your squirrel's not in residence, it'll only make some more hole's to get back out or might die of starvation trying to escape, ruining your underfelt or possibly chewing through your wiring in it's frantic search for an escape route
Placing The Squirrel Trap, find a suitable flat board in the loft close to where the squirrel activity has been noticed, make sure the Trap Man Squirrel Trap is stable on the board well away from any loft insulation, rock wool can prevent the treadle on The squirrel trap operating fully. The squirrel trap can be fixed to the outside of your home over the squirrel's entrance / exit hole. The Squirrel Trap will operate vertically, horizontally and even at an angle. it's flush fitting door enables The Squirrel trap to be fitted flush to the squirrel's exit hole
Your first step to catch your Grey Squirrel is to do a little detective work. Find the path that the squirrel is using to your loft or where ever it shouldn't be. To find this path, you must first watch your grey squirrel's routine. Normally, a grey squirrel will leave the nest at daybreak or shortly after in search of food. If you can get up this early and stay awake it's the best time to watch and wait. Find a place where you can view your house and the squirrel's entrance hole. Be very still, and watch how the squirrel gets to or from it's home to your's. E.g. climbing, jumping or both. Once you discover this path, you should place the squirrel trap accordingly.
Choosing your trap.
If your grey squirrel is bounding around your garden use our humane squirrel trap pictured above, simple & effective.
If the squirrel is in your loft, waking you up at some un-holy hour use our squirrel trap loft kit this contains everything you need.
If your squirrel has a set route every day try our runthrough squirrel trap as this requires no baiting but is more difficult to set.